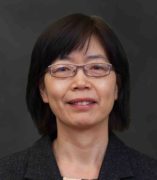 Yang Dai, Ph.D.
Associate Professor
Alternative Director of Graduate Studies (Bioinformatics Program)
Contact
Building & Room:
Clinical Sciencs North Buildin, Suite w103. Room.164E
Address:
820 S Wood St. Chicago, IL 60612
Office Phone:
Email:
Related Sites:
About
Yang Dai received Ph.D degree in Management Science and Engineering from University of Tsukuba, Japan, in 1991. She was a research associate and an Assistant Professor at the Department of Management Science of Kobe University of Commerce from 1991-1997. From 1997-2001 she was an Assistant Professor of Department of Mathematical and Computing Sciences, Tokyo Institute of Technology. Since 2001 she is on faculty of Department of Bioengineering, the University of Illinois at Chicago. She has a broad interest in machine learning, data mining, and optimization. Her recent research interests include the analysis of omics data for the inference of biological network and for biomarker detection. Professor Dai has published more than 100 peer reviewed papers in journals and conference proceedings. More details on current research projects can be found here.
Teaching:
BioE 339 Introduction to Biostatistics I
BioE 530 Introduction to Biostatistics and Machine Learning in Bioengineering and Bioinformatics
BioE 582 Computational Functional Genomics